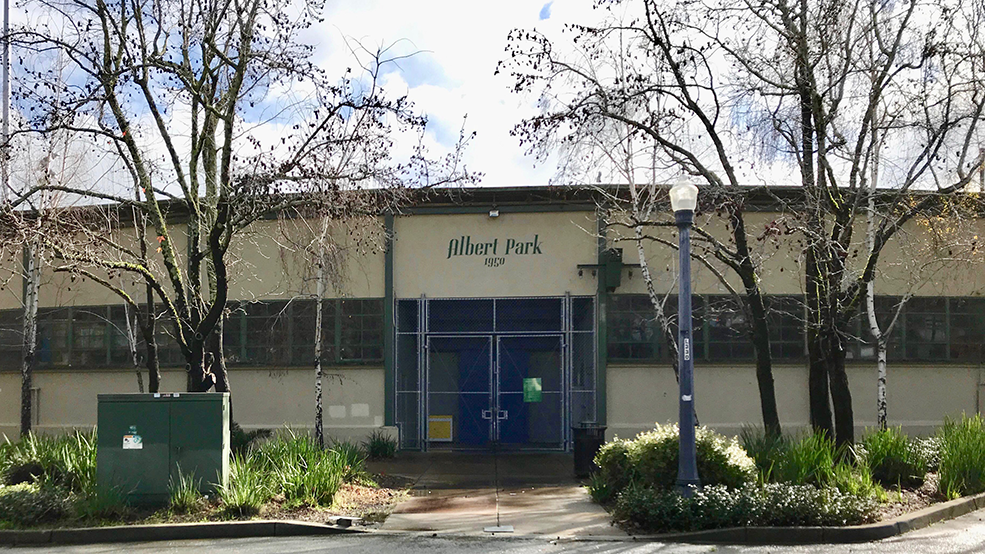 A-Z Guide at Albert Park



Centerfield Partners, LLC strictly enforces the following alcohol serving policy: Everyone must be at least 21 years of age and present positive state-issued photo ID to purchase and consume alcoholic beverages. Service will cease at the end of the 7th inning. The Pacifics reserve the right to suspend service at any time at the sole discretion of the management, and also reserves the right to suspend service to any one individual at any time for any reason.
Autographs will be signed prior to a select home game once a week. Check back regularly for the latest autograph schedule.

The concession operations at Albert Park are run by Centerfield Partners, LLC. There is a variety of food and beverage options at the stadium, located on either side of the grandstands and into the beer garden. Albert Park can also host your pre-game and group outings. Call (415) 485-156 today for more details or to reserve your next event.

The Pacifics encourage a family atmosphere at Albert Park, and we would like your visit to be safe and enjoyable. Please observe the following rules and behavior while attending a Pacifics game: Anyone entering the field of play without permission will be subject to arrest and be asked to leave the game. Throwing objects in the stands or onto the playing field is strictly prohibited. Violators will be asked to leave the stadium. Patrons who use foul or abusive language, appear to be intoxicated, or otherwise jeopardize the family atmosphere in the stadium will be asked to leave and will forfeit the price of their ticket.
Please contact an Albert Park usher, Pacifics employee, or security personnel if you are in need of assistance. In the case of an emergency, call 911.

Monday through Thursday and Saturday: 7:15 p.m.
Friday: 7:30 p.m.
Gates open 60 minutes prior to all game times. Game times are subject to change. Some exceptions may apply.
Paper or plastic grocery bags, purses, fanny packs, backpacks, lunch bag, soft-sided containers, hand bags and briefcase are allowed into Albert Park as long as they do not exceed 16-inches by 16-inches by 8-inches in size. All bags will be thoroughly inspected before they are permitted into the ballpark. Hard-sided coolers will not be permitted. All glass bottles, cans, or glass containers of any kind are prohibited at Albert Park. Food is permitted from outside the stadium into Albert Park, provided it is not in glass bottles, cans, coolers or a thermos. Unbroken factory-sealed plastic bottles of water and other non-alcoholic beverages of one liter or less are permitted
.
GROUP RATES, PICNICS & BIRTHDAY PARTIES
GUEST RELATIONS

A Guest Relations staff member will be present during each Pacifics home game. You can visit Guest Relations to pick up Pacifics schedules, claim
prizes, report a problem or emergency to Pacifics officials, or to ask any questions.
HANDICAPPED SEATING/ACCESS

Handicapped and wheelchair seating is available on the third base side, behind the Budweiser Dugout Club. Those who require a special accomodations can purchase a General Admission ticket, and can ask to be escorted into the stadium along the third-base side. Please contact the Pacifics for details at info@pacificsbaseball.com.

Please report any found items to a Pacifics usher. Lost items can be picked up at Albert Park, or at the Pacifics office on Second Street in San Rafael.
Thanks to our partners with the San Rafael Corporate Center, game-day parking is complementary in the lot on the corner Lindaro and Andersen Drive. There is also additional parking at various locations near Albert Park. Please be advised to pay attention to street signs and parking limitations around Albert Park, as parking regulations are enforced by the City of San Rafael. There is absolutley no baseball parking allowed in the Community Center parking lot at 618 B Street in San Rafael. Violaters will be towed.

Games will not be postponed before the original starting time. At the game's original start time, North American League umpires will determine whether the game will be started, delayed, or postponed. All efforts will be made to play the game. If a game is postponed or cancelled, for non-season ticket holders, your tickets may be exchanged for a Pacifics 2012 Regular Season home game for tickets of equal or lesser value (subject to availability). If this occurs, we recommend exchanging tickets in advance of the game you wish to attend. Tickets must be exchanged at the Pacifics Box Office located at Albert Park.

There are no refunds for the purchase price of tickets. For full-season ticket holders, your tickets are not eligible for exchange. Your season ticket package included all regular season home games. Any postponed game may be made up as a doubleheader and your tickets are good for both games. Please remember that you must have a ticket for the game you wish to attend. Tickets for a postponed or cancelled game must be exchanged for the game you wish to attend. For example: if a game is postponed on a Monday and it is made up as a doubleheader the next day, you need a ticket dated for that day's game in order to attend. A game must go at least 4 1/2 innings to be considered official.
PACIFICS OFFICE/TICKET WINDOWS
The Albert Park ticket booth is opened only on game days, and only one-and-a-half hours prior to first pitch.
No tickets will be sold at the Pacifics front office.
To purchase tickets in advance visit www.pacificsbaseball.com, and scroll down to find the game you wish to attend.
PACIFICS TICKET POLICY
There are three seating options for fans:

General Admission

,

Grandstand Box

and

Dugout Club

.

Regular Season Ticket Prices are as follows: General Admission are $10 in advance, and $12 on the day of game. Grandstand Box tickets are $15 in advance, and $17 the day of the game. Dugout Club tickets are $20 in advance, $22.00 the day of the game. A discount will be applied to all full-season ticket plans. A small processing fee will be applied to all online sales of single-game tickets.

In the event all seats are sold out, a limited number of Standing Room Only tickets will be sold.

Every person who wants a seat needs a ticket.


A child (age 2-years-old or younger) who will sit on someone's lap does not need a ticket.

Senoirs 65-years and older, as well as active military members can recieve a $2 discount on tickets purchased at the ticket booth. No discounts can be applied to online sales.

Advance tickets will be available online, at the Pacifics Office or can be picked up at the stadium.


The Pacifics accept cash, check and all major credit cards. Some locations within the park may not accept American Express.



Tickets can be purchased online 24 hours a day, and fans can choose to print their tickets, or go paperless by supplying a name and ID at the will call tabe a a home or pick up their tickets at Will Call.

Both individual game tickets and any ticket package which is lost, stolen or destroyed cannot be replaced.

Once tickets are received by a party, it is the sole responsibility of that party to ensure the security of their tickets.


All ticket orders are final regardless of if they are ordered over the phone, purchased at the window, or online.



The restrooms are located outside of the main gate of Albert Park. The portable restrooms are the only restrooms on the premises
.
Batted and thrown baseballs are extremely dangerous. Please keep alert at all times as the Pacifics, Albert Park, or the North American League are not liable for any accidents that occur incidental to the game of baseball.
Uniformed security personnel are stationed throughout Albert Park from the time the gates open until the stadium has been cleared after the conclusion of the game. They are available for your assistance as needed.
Smoking is prohibited in all areas of Albert Park.

A complete line of official Pacifics merchandise is available at Albert Park during games. Souvenirs may be purchased with Master Card, Visa, cash or check. All mail orders will be subject to a handling charge. You can also purchase official Pacifics merchandise online.